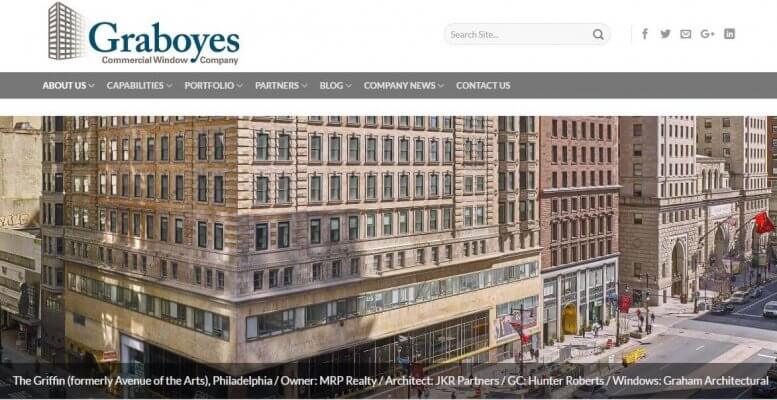 Graboyes Commercial Window Company has launched a new website at www.graboyes.com following the announcement of new ownership in February. Created with user experience in mind, the website will allow its audiences to understand the firm's extensive portfolio of projects and areas of expertise in architectural window installation. Users include architects, developers, building owners, construction managers, energy companies, and general contractors.
Developed with the support of Wiser Web Solutions, the website communicates the company's leadership position among glazing contractors and building envelope experts. The site will adapt to additional content as the company expands its building performance offerings in the sustainable building market.
Features of the new website include:
A clean contemporary design and clear navigation
A generous photographic and narrative display of in-progress and completed projects
A timeline narrating the company's 34-year history
A blog for self-publishing and curating informative content
Sections for case studies and company news releases
Contact information and headshots of company leadership and staff
Embedded feed of the company's Twitter timeline and icons connecting to its social media channels
Responsive design that adapts to viewing on mobile devices
About Graboyes Commercial Window Company
Philadelphia-based Graboyes Commercial Window Company has served the diverse built environment of Greater Philadelphia and the surrounding region for more than 30 years. A Top-50 glazing contractor and leader in architectural window replacement, the company provides a seamlessly integrated window system solution under the direction and control of its own management team. From sales and design to engineering and installation, Graboyes Commercial works with architects, developers, building owners, construction managers, energy companies, and general contractors. Its team develops, produces, and installs window systems for historic restorations, new construction, and high-rise renovations.
With consistently increasing annual revenues that currently exceed $12 million, the company was named to INC Magazine's list of fastest growing companies in 2009 and 2016 and the Philadelphia Fastest Growing 100 list in 2014. Graboyes Commercial has received largest-dealer recognition from both TRACO (now Alcoa/Kawneer) and Graham Architectural.
For more information, visit www.Graboyes.com.